You are here
Back to top
Voyaging, Volume One: The Plague Star [A Graphic Novel] (Paperback)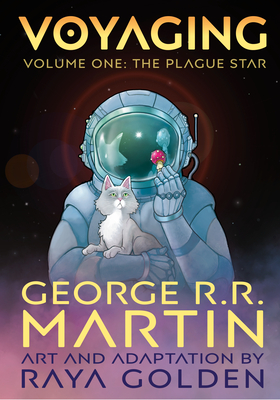 $19.99

Usually Ships in 1-5 Days
Description
---
Journey across the cosmos in George R. R. Martin's beloved sci-fi universe, the Thousand Worlds, as a ragtag group of conspirators embark on a mysterious mission to gain unfathomable fame and fortune—if only they can survive.

"Voyaging is an absolute delight as Raya Golden brings Martin's space opera to life."—Neil Gaiman, author of The Sandman

On the distant planet Hro B'rana, the last words of a dying man echo through the halls of a run-down trading station.

Nearly three hundred years later, a group of fortune seekers embark on a mission to unravel the mystery of the fabled Plague Star aboard a rickety trade ship called The Cornucopia of Excellent Goods at Low Prices. But their journey will be far more perilous than any of them could have imagined—who will survive this deadly quest and battle it out for the final prize?

A darkly comic meditation on our future as a species, Voyaging, Volume 1: The Plague Star is a sci-fi adventure story of intrigue, greed, deception, and of course… cats. Adapted and vividly illustrated by Hugo Award–nominated artist Raya Golden, this thrilling and action-packed graphic novel brings the first story from #1 New York Times bestselling author George R. R. Martin's classic collection Tuf Voyaging to life.
About the Author
---
George R. R. Martin is the #1 New York Times bestselling author of the acclaimed series A Song of Ice and Fire, as well as related works such as Fire & Blood, A Knight of the Seven Kingdoms, and The World of Ice & Fire. Other novels include Tuf Voyaging, Fevre Dream, and Dreamsongs. As a writer-producer, he has worked on The Twilight Zone and Beauty and the Beast. He lives with his lovely wife, Parris, in Santa Fe, New Mexico.

Raya Golden was born in New York City, and has slowly made her way westward across the United States. She graduated from the Academy of Art University in San Francisco, focusing on traditional and digital illustration. Her first graphic novel, Meathouse Man—an adaptation of George R. R. Martin's short story of the same name—was nominated for a Hugo Award for Best Graphic Novel. She has since adapted and illustrated George R. R. Martin's Starport.
Praise For…
---
"George R. R. Martin has created a whole army of memorable characters, but Haviland Tuf marches (or at least, saunters amiably) in the vanguard of that army. Voyaging is an absolute delight as Raya Golden brings Martin's space opera to life. It's a funny, scary, and wonderful read."—Neil Gaiman, author of The Sandman
 
"Voyaging is an overly accomplished piece of science fiction that's as visually stunning a graphic novel as anything I've seen in my 52 years on Earth. George R. R. Martin's story is as imaginative as you'd expect from a master of fantasy (and longtime comic book fan), but it's Raya Golden's hypnotic art that makes this book shine brightly. With her clean, vibrant style, Golden is instantly in a class with elder statesmen like Frank Quietly. An absolute must-read!"—Kevin Smith, aka Silent Bob, comics connoisseur
 
"Vivid, spectacular, and riveting until the very last page!"—Sarah Andersen, New York Times bestselling author of Fangs and Sarah's Scribbles
*Search results on this website are not a real-time indication of our in-store stock. To see if a title is available for immediate pick-up, please contact us by phone (502-223-8018) or by email (poorrbooks@aol.com). Thank you! *