You are here
Back to top
Scars and Stripes: An Unapologetically American Story of Fighting the Taliban, UFC Warriors, and Myself (Paperback)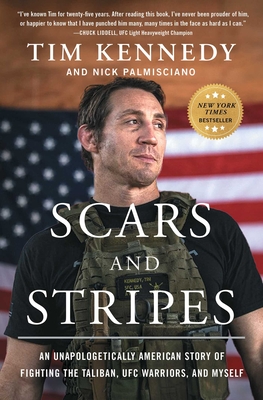 $19.99

Coming Soon - Available for Pre-Order Now
Description
---
From decorated Green Beret sniper, UFC headliner, and all around badass, Tim Kennedy, a rollicking, inspirational New York Times bestselling memoir offering lessons in how to embrace failure and weather storms, in order to unlock the strongest version of yourself.

Tim Kennedy has a problem; he only feels alive right before he's about to die. Kennedy, a Green Beret, decorated Army sniper, and UFC headliner, has tackled a bull with his bare hands, jumped out of airplanes, dove to the depths of the ocean, and traveled the world hunting poachers, human traffickers, and the Taliban.

But he's also the same man who got kicked out of the police department, fire department, and as an EMT, before getting two women pregnant four days apart, and finally, been beaten up by his Special Forces colleagues for, quite simply, "being a selfish asshole."

With his vivid and stirring voice, Scars and Stripes "is an authentic gut punch of a life lived with grit, resiliency, and a never-quit attitude in the face of heartbreaking failures and incredible success that every American can learn from" (Patrick Murphy, veteran and former United States Under Secretary of the Army). Kennedy reveals that failure isn't the end—rather it's the first step towards unearthing the best version of yourself and finding success, no matter how overwhelming the setbacks may feel.
About the Author
---
Tim Kennedy is a Green Beret, sniper, and former MMA fighter. He's starred on the History Channel's Hunting Hitler and Discovery's Hard to Kill. Tim owns Apogee Cedar Park, a private school in Texas, and Sheepdog Response, a tactical training company. He lives with his wife and children in Texas. Follow Tim on Instagram and Twitter @TimKennedyMMA.

Nick Palmisciano is a graduate of the United States Military Academy at West Point and Duke University's Fuqua School of Business MBA Program. He served for six years as an infantry officer before moving into the world of business, creating the successful marketing firm Diesel Jack Media, and Ranger Up, which grew to prominence as the first military lifestyle brand. He lives with his wife and children in Chapel Hill, North Carolina. Find out more at NickPalmisciano.com, and follow him on Instagram @NickPalmisciano and on Twitter @Ranger_Up.
Praise For…
---
"Most of us have a few great stories to tell about a time that our lives were extraordinary. My friend Tim Kennedy has a book's worth—and even more than that. Motivated by his audacity, resolve, and gutsiness, I have no doubt you'll begin living your life a little bit more like Tim after reading this."—Joe Rogan, comedian and host of The Joe Rogan Experience

"I've known Tim for twenty-five years. After reading this book, I've never been prouder of him, or happier to know that I have punched him many, many times in the face as hard as I can."—Chuck Liddell, UFC Light Heavyweight Champion

"A gritty account from a leading voice of our Post 9/11 Generation—Tim Kennedy's book is an authentic gut punch of a life lived with grit, resiliency, and a never-quit attitude in the face of heartbreaking failures and incredible success that every American can learn from."—Honorable Patrick J. Murphy, America's first Iraq veteran in Congress and 32nd Army Undersecretary
*Search results on this website are not a real-time indication of our in-store stock. To see if a title is available for immediate pick-up, please contact us by phone (502-223-8018) or by email (poorrbooks@aol.com). Thank you! *