You are here
Back to top
So Long as It's Wild: Standing Strong After My Famous Walk Across America (Hardcover)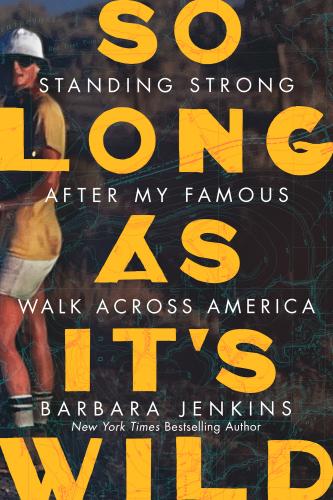 $27.95

Usually Ships in 1-5 Days
Description
---
From the New York Times bestselling coauthor of The Walk West comes Barbara Jenkins's long-awaited tale of her walk across America, an adventure that once captured the national media spotlight. From the untold narrative of her impoverished hillbilly upbringing, to the crushing aftermath of her walk toward newfound courage and strength, So Long as It's Wild is her story.
As a child growing up in the wild beauty of the Ozarks, Barbara often spent her days exploring outside and daydreaming of faraway places to escape the realities of poverty. She longed to trade her homemade clothes and outdoor toilet for spectacular adventures around the world. That chance came in the form of a young wild-eyed, long-haired "viking" man named Peter.
After an exciting courtship and a wedding on a dime, the young couple departed on foot from New Orleans on July 5, 1976, heading toward the Pacific Coast. News of the couple's expedition spread like wildfire, landing them on the cover of National Geographic Magazine and countless other publications. Soon after beginning their nearly three-year journey, Barbara realized the funny, adventure-seeking, charismatic man she married was not the loving partner she thought. Despite this realization, she continued the difficult journey, and whether she faced aggressive renegades, a life-threatening fall from Engineer Pass, or a devastating heartbreak that caused her to feel lost and alone, Jenkins pushed through it all with grit and determination.
Despite the newfound fame and the bestsellers she coauthored, The Walk West and The Road Unseen, Barbara's side of the story of the infamous walk that later left her in the shadows. She said of that time, "We appeared on magazine covers, were guests on radio and television programs and appeared in newspapers everywhere. International fame and good fortune followed until it evaporated into a trail of heartbreak, a thousand deaths, and my disappearance." Now Jenkins is telling the rest of the story, sharing her perspective on what took place from the bayous of Louisiana to the Pacific Ocean, and beyond.
With lyrical, transportive prose, So Long as It's Wild: Standing Strong After My Famous Walk Across America is one woman's tale, stepping out from behind the man she had married, to find her voice and claim her story.
Praise for So Long As It's Wild
"Barbara Jenkins is still standing strong after her famous walk across America. What an inspiring book. I always try to read as many books as I can about women who inspire others with their contribution to society. Barbara has certainly lived it all, done it all, and done it again by putting this book together. So Long as It's Wild is a book of endurance, grit, love, compassion, and spiritual and physical energy. What a blessing. I hope it touches you as much as it has me."
--Dolly Parton
"Christian readers and fans of Tara Westover's Educated or Cheryl Strayed's Wild will be captivated by this inspirational journey of self-discovery and reinvention."
--Library Journal
"Barbara Jenkins' unique and honest perspective of her walk across America will inspire women and girls everywhere to know that their story is worth telling."
--Connie Britton
"After reading Barb's story I was carried away by her adventure, grit and grace and felt like we became dear friends. I didn't want the story to end."
--Hilary Swank, Academy Award Winning Actress (Boys Don't Cry and Million Dollar Baby)
"A transcontinental trek exposes a couple to gorgeous scenery, menacing criminals, and kindhearted strangers--all while fraying their marriage--in this bittersweet memoir. . . It's an engrossing reminiscence."
--Publishers Weekly
"Part memoir, part travelogue, part adventure, 'So Long as It's Wild: Standing Strong After My Famous Walk Across America' is an inherently fascinating read from start to finish. Exceptionally well written, organized and presented, 'So Long as It's Wild' is especially and unreservedly recommended for community library American Biography/Memoir collections and will prove of special appeal to readers with an interest in unique true life adventure stories as recounted by those that lived them." -- Midwest Book Review
-- (8/3/2023 12:00:00 AM)
About the Author
---
Barbara Jenkins grew up in the wild beauty of the Ozarks with no running water and homemade clothes. The first in her family to go beyond an 8th grade education, she received her Master's from New Orleans Baptist Theological Seminary. She shot to fame in 1976 with her then-husband for their ambitious walk across America. That journey became the inspiration for their New York Times bestseller The Walk West, selling over 12 million copies.She has since published a number of other books, including The Road Unseen, a Gold Medallion Book Award winner. Her writing and entrepreneurship has been featured on Good Morning America, Reader's Digest and more. Jenkins now travels the country, speaking at universities, conventions, and other events about her story. When she is not writing, speaking, or traveling, Jenkins loves spending time with her granddaughters, Josephine and Lyla. She lives in Nashville, Tennessee.
*Search results on this website are not a real-time indication of our in-store stock. To see if a title is available for immediate pick-up, please contact us by phone (502-223-8018) or by email (poorrbooks@aol.com). Thank you! *