You are here
Back to top
Wren Martin Ruins It All (Hardcover)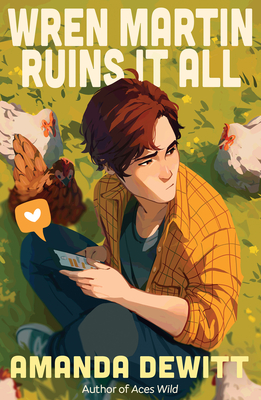 $18.99

Usually Ships in 1-5 Days
Description
---
From the author of Aces Wild: A Heist comes a hilarious and compassionate romantic comedy for fans of Casey McQuiston and Netflix's Love is Blind!

"My mouth still hurts from all the smiling." —Sonora Reyes, National Book Award Finalist

Now that Wren Martin is student council president (on a technicality, but hey, it counts) he's going to fix Rapture High. His first order of business: abolish the school's annual Valentine's Day dance, a drain on the school's resources and general social nightmare—especially when you're asexual.

His greatest opponent: Leo Reyes, vice president and all-around annoyingly perfect student. Leo has a solution to Wren's budget problem—a sponsorship from Buddy, the anonymous "not a dating" app sweeping the nation. Now instead of a danceless senior year, Wren is in charge of the biggest dance Rapture High has ever seen. He's even secretly signed up for the app. For research, of course.

But when Wren develops capital F-Feelings for his anonymous match, things spiral out of control. Wren decided a long time ago that dating while asexual wasn't worth the hassle. With the big night rapidly approaching, he isn't sure what will kill him first: the dance, his relationship drama, or the growing realization that Leo's perfect life might not be so perfect after all.

In an unforgettably quippy and endearingly chaotic voice, narrator Wren Martin explores the complexities of falling in love while asexual.
About the Author
---
Amanda DeWitt is an author (Aces Wild, Peachtree) and librarian, ensuring that she spends as much time around books as possible. She also enjoys Star Wars, Dungeons & Dragon-ing, and even more writing—just not whatever it is she really should be writing. She graduated from the University of South Florida with a master's in information and library science. She lives in Clearwater, Florida, with her dogs, cats, and assortment of chickens.
Praise For…
---
"Employing Wren's wry, prickly first-person POV rendered in crisp, believable prose, DeWitt (Aces Wild) delivers a nuanced, hilarious, and highly readable rom-com."—Publishers Weekly
 
"Sharp, lovable, and timely."—Kirkus Reviews

"This delightful book had me swooning and squealing and laughing and crying (from laughing so hard). Wren Martin Ruins It All is correct, because I am forever ruined by this book! My mouth still hurts from all the smiling." —Sonora Reyes, National Book Award Finalist
 
"Wren Martin is exactly the kind of narrator I adore—sharp and witty, but unable to hide his big heart. With a one-of-a-kind voice, Amanda DeWitt embraces the charming chaos of high school dances, online anonymity, and boldly choosing to be yourself. This is the ace rom-com we've been waiting for." —Brian D. Kennedy, author of A Little Bit Country
 
"Wry, hysterical, and incredibly heartfelt, Wren Martin Ruins It All is an ace rom-com by way of John Hughes. Amanda DeWitt's characters are messy and chaotic, but more importantly loveable and so easy to cheer for." —Erik J. Brown, author of Lose You to Find Me and All That's Left in the World
*Search results on this website are not a real-time indication of our in-store stock. To see if a title is available for immediate pick-up, please contact us by phone (502-223-8018) or by email (poorrbooks@aol.com). Thank you! *