You are here
Back to top
History of the Moors of Spain (Paperback)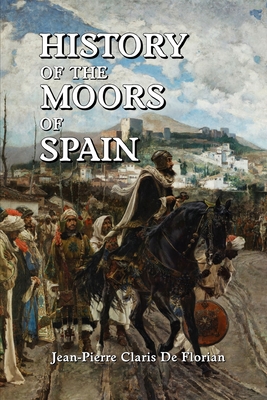 $14.95

Usually Ships in 1-5 Days
Description
---
An objective and compelling overview of the Moorish occupation of Spain, from the time of their first landings in Iberia to their final expulsion in 1492, written by one of France's greatest authors. This work became one of the standard histories of the era of Moorish rule in Spain and covered not just the military campaigns but also the cultural achievements of that time.
Divided into four "epochs," this work starts with a recounting of the Muslim expansion across the Middle East and North Africa after Islam's founding by Mohammed the Prophet. It then moves on to describe exactly how the Moors then crossed the Mediterranean Sea to occupy the Iberian Peninsula.
Next, it details the establishment of the Caliphate in Spain and its abortive attempts to extend its rule into France. The internal divisions within Islam and even within the Caliphate eventually led to its downfall, and replacement with individual Islamic kingdoms, which, divided as they were, became easy prey for the Christian Reconquista.
Finally, the narrative ends with the fall of the last Islamic stronghold in Spain, Grenada, in 1492.
In addition, this work reveals much of Islamic culture and science, and how that religion played an important role in preserving much classical thought for later Western European civilization.
The second part of the book, added by later authors, then provides a fascinating nineteenth-century European assessment of Islam, and how the dominance of Wahhabism portended a revival in the more extreme parts of that region and its followers.
A classic study of the Moorish invasion in Spain which has lost none of its vitality or drama. This new edition has been completely reset, is fully foot- and end-noted, and contains a new index.
Contents
Introduction
Part I: The Four Epochs
First Epoch
Chapter I: The Conquests of the Arabs or Moors
Second Epoch
Chapter II: The Kings of Cordova Become the Caliphs of the West
Third Epoch
Chapter III: Containing an Account of the Principal Kingdoms that Sprang from the Ruins of the Caliphate
Fourth Epoch
Chapter IV: The Kings of Granada
Part II: A Brief Account of the Rise and Decline of the Mohammedan Empire
Chapter I: Extent of the Arabian Empire
Chapter II: Literature and Science of the Arabs
Chapter III: The Present Condition of Mohammedanism
Index
*Search results on this website are not a real-time indication of our in-store stock. To see if a title is available for immediate pick-up, please contact us by phone (502-223-8018) or by email (poorrbooks@aol.com). Thank you! *