You are here
Back to top
One For The Money (Abridged / CD-Audio)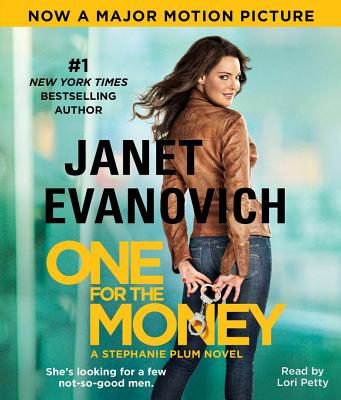 $14.99
Usually Ships in 1-5 Days
Description
---
New York Times bestseller Janet Evanovich's One for the Money is being reissued for only $14.99 to coincide with the feature film due out this summer.

Welcome to Trenton, New Jersey, home to wiseguys, average Joes, and Stephanie Plum, who sports a big attitude and even bigger money problems. Stephanie needs cash fast—but times are tough, and soon she's forced to turn to the last resort of the truly desperate: family….

Stephanie lands a gig at her sleazy cousin Vinnie's bail bonding company. She's got no experience. But that doesn't matter. And neither does the fact that the bail jumper in question is local vice cop Joe Morelli. From the time he first looked up her dress to the time he first got into her pants, to the time Steph hit him with her father's Buick, M-o-r-e-l-l-i has spelled t-r-o-u-b-l-e. And now the hot guy is in hot water-wanted for murder….
About the Author
---
Janet Evanovich is the #1 New York Times bestselling author of the Stephanie Plum series, the coauthored Fox and O'Hare series, the Knight and Moon series as well as twelve romance novels, the Alexandra Barnaby novels, the graphic novel Troublemaker, and How I Write: Secrets of a Bestselling Author. She lives in New Hampshire, where she is at work on her next Stephanie Plum adventure.
Praise For…
---
Nora Roberts bestselling author of Private Scandals Stephanie Plum is destined to join ranks with Kinsey Millhone and Carlotta Carlyle. Janet Evanovich has crafted a heroine for today, tough, vulnerable, resourceful, and impulsive.



Senator William S. Cohen author of Murder in the Senate A fast-paced, gritty mystery....Janet Evanovich is a witty and clever voice in crime fiction.



Joan Hess author of the Claire Malloy and the Maggody series This is one gritty romp, to put it mildly. Stephanie Plum has not only a hilarious family and some very peculiar associates, but also a wicked sense of humor, a healthy libido, and the tenacity to tackle the most appalling thug to swagger down the streets of Trenton.



Judith Greber, a.k.a. Gillian Roberts author of the Amanda Pepper series With Stephanie Plum, New Jersey has struck gold. Janet Evanovich is a formidable writer who can turn even pollution into endearing local color -- and this is an outstanding debut. I can't wait for the sequel.



Marlys Millhiser author of Death of the Office Witch Finally, something fresh and different! Stephanie Plum is an original and One for the Money is a great series debut.



Deborah Crombie author of All Shall Be Well What a great read! I couldn't put it down. It's fast and funny...Stephanie Plum's attitude is as refreshing as a cold wind on a blistering New Jersey day. She's a believably vulnerable heroine who doesn't need to be rescued by a man, even one as sexy as Joe Morelli.



Dean James manager, Murder by the Book, Houston, and coauthor of By a Woman's Hand Evanovich has a smooth, funny style, spacing thrills and laughs for maximum effect. Mark Evanovich and Plum down on your must-read list!



Jerome Doolittle author of Headlock Funny, unsentimental, tough and touching all at once. I hope we see a lot more of Stephanie Plum.
*Search results on this website are not a real-time indication of our in-store stock. To see if a title is available for immediate pick-up, please contact us by phone (502-223-8018) or by email (poorrbooks@aol.com). Thank you! *