You are here
Back to top
National Geographic Field Guide to the Birds of North America, Sixth Edition (Paperback)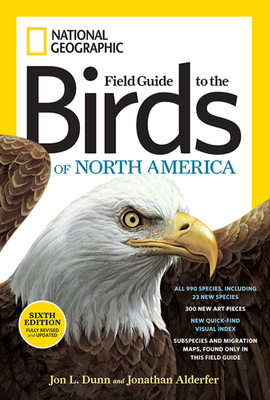 Description
---
National Geographic's iconic, best-selling guide for birders and birding enthusiasts of all levels includes unique subspecies maps never before seen in a field guide; extensive migration information overlaid on species maps; field-mark labels on all artwork; text updates with new species; reorganization reflecting taxonomic changes in the bird community; organization, readability, and increased page count.
About the Author
---
Jon L. Dunn is a leading expert on the identification and distribution of North American birds. He is a consultant for Birding magazine, and former chair of the American Birding Association's Checklist Committee.
 
Jonathan Alderfer is chief consultant for National Geographic's Birding Program and a widely published author and field guide illustrator. One of the nation's foremost birding artists, he is well known for his authority on North American birds and his expertise as a field ornithologist.
Praise For…
---
Reviews of the National Geographic Field Guide to the Birds of North America, Sixth Edition:

"Wow! … a 10% increase in illustrations, plates now sprinkled with text to point out key features, updated range maps, comprehensive subspecies maps, and other useful new features. This classic guide just keeps evolving and improving. This is the guide you want with your field gear." 
-J. V. Remsen, Distinguished Professor and Curator of Birds, Museum of Natural Science, Louisiana State University
 
"Jon Dunn's masterful field knowledge of North America's birds and Jonathan Alderfer's unparalleled artistic ability and direction shine throughout this up-to-date overhaul of a classic guide.  Birders at all levels of experience benefit from a guide that is both comprehensive and accurate, and National Geographic Field Guide to the Birds of North America is exactly what they need." 
-Kimball L. Garrett, Ornithology Collections Manager, Natural History Museum of Los Angeles County

"The best birding field guide you can buy…National Geo 6 is now my default go-to guide. It is the design innovations that push this book to the front. You will not find a field guide that gives you better and faster access to the information it contains." –Minneapolis Star Tribune blog
 
"Shelve all your other field guides for Dunn and Alderfer's brand-new sixth edition, which leaps beyond previous editions, as well as all competition...Study it at home. Carry it afield. It has no peer."
–Daniel Gibson (birding expert), Amazon.com
 
"This new, sixth edition is by far the best of this splendid guide's incarnations so far. [It] is, simply put, the one book every North American birder needs to have on the shelf. Beginners will find it attractive, easy to use, and portable; intermediate and advanced birders will refer to it again and again with profit--and with surprise at how much it can teach even the most experienced among us." –The ABA Blog
 
"The 6th edition - thoroughly re-tooled by Jon Dunn and Jonathan Alderfer - contains more new material than any other previously published revision, and it is most impressive…The combination of organization, illustration, and design adds up to a book that should please birders at virtually any level of experience." –Birding e-Bulletin
 
"It belongs in every birder's library! From beginner to expert, it will be useful to any birder. And for those interested in geographic variation, it is a must." –The Birder's Library
 
"A must-have volume for birders of all abilities." Dan Tallman's Bird Blog
 
"This will be one of the most popular field guides in the hands of North American birders…[it is] the most up-to-date field guide on the market." Birdingisfun.com


Reviews of the National Geographic Field Guide to the Birds of North America, Fifth Edition:

"[National Geographic Field Guide to the Birds of North America Fifth Edition] is an awesome work…the most up-to-date field guide out there…birders can do no better than to tuck this book in their cars, backpacks, or bike sacks." –Bird Watcher's Digest
 
"The must-have resource for birders." –Miami Herald
 
"Birders rejoice! National Geographic has come through once again." –Booklist, starred review
 
"Libraries should feather their nests with [this]." –Library Journal

"You could do now better than this thick compendium…" –Chicago Sun Times
 
"The field reference of choice for serious birders...Beginners and experts alike will flock to this handy field guide." -Amazon.com

"Particularly good in making the difficult identification process easier." -The Star Ledger (Newark)
*Search results on this website are not a real-time indication of our in-store stock. To see if a title is available for immediate pick-up, please contact us by phone (502-223-8018) or by email (poorrbooks@aol.com). Thank you! *