You are here
Back to top
Rick Riordan Presents: The Spirit Glass (Hardcover)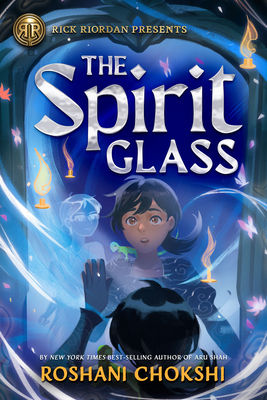 $16.99

Usually Ships in 1-5 Days
Description
---
Best-selling author Rick Riordan presents a standalone quest adventure based on Filipino mythology by Roshani Chokshi, author of the best-selling Aru Shah series.

Corazon yearns to finally start training as a babaylan (a mystical healer and spirit guide) under her powerful guardian, Aunt Tina. As soon as her magic awakens, Corazon plans to bring her parents back from the dead and no longer have to rely on a soul key to allow visits with their ghosts for a few hours every Saturday night.
 
But when a vengeful ghost steals Corazon's precious key, the fragile balance between the human world and the spirit world is thrown out of whack. Aunt Tina reveals that if Corazon wants her magic to awaken, then she must lay the ghost to rest by fashioning a new soul key. 

With her rather bloodthirsty gecko companion, Saso, Corazon embarks on a quest through the spirit realms. But they must move quickly, for  if the ghost gets  through the spirit glass, all hope will be lost.

Roshani Chokshi pays tribute to her Filipino heritage in this book that has all the magic, sparkle, and heart that made her Aru Shah series a fantasy classic.

About the Author
---
Roshani Chokshi (she/her) is the author of the instant New York Times best-selling Pandava quintet inspired by the Hindu stories she learned from her paternal grandmother. The first book in the series, Aru Shah and the End of Time, was named one of the 100 Best Fantasy Books of All Time by Time magazine. Rosh also wrote the New York Times best-selling Star-Touched and Gilded Wolves series for YA readers, and The Last Tale of the Flower Bride for adults. One of her motivations for writing The Spirit Glass was to honor her Filipino heritage on her mother's side. She lives in Georgia. Follow her adventures on Instagram @roshanichokshi.
Praise For…
---
Praise for The Spirit Glass

"Roshani writes with the kind of electrifying wonder and sweeping grace that only she can! You will fall in love with Corazon and Saso."
   —Kelly Yang #1 New York Times best-selling and award-winning author of the Front Desk series and New From Here

Praise for Aru Shah and the End of Time

* "In her middle-grade debut, Chokshi spins a fantastical narrative that seamlessly intertwines Hindu cosmology and folklore, feminism, and witty dialogue for an uproarious novel for young readers. Chokshi comes into her own in this novel, reminding readers of the power of language and of stories."
   —Kirkus (starred review)

* "This series kick-off . . . also the first book from the Rick Riordan Presents imprint, expertly channels the humor and action that have made Riordan's own work so successful. Aru commands the spotlight . . . and Chokshi weaves an engrossing adventure that will leave readers anticipating the next installment."  
   —Publishers Weekly (starred review)

*"Using Hindu mythology as the foundation, Chokshi has created an exciting adventure around a coming-of-age tale. Just as "Percy Jackson" led tweens to a deeper exploration and appreciation of classic Greek mythology, Chokshi's tale will likely inspire a similar demand for traditional Indian mythology. An enthralling start to a series that Riordan fans and anyone in the mood for a high-octane adventure will love."
   —School Library Journal (starred review)
*Search results on this website are not a real-time indication of our in-store stock. To see if a title is available for immediate pick-up, please contact us by phone (502-223-8018) or by email (poorrbooks@aol.com). Thank you! *