You are here
Back to top
The Afghan Papers: Committing Britain to War in Helmand, 2005-06 (Whitehall Papers #77) (Hardcover)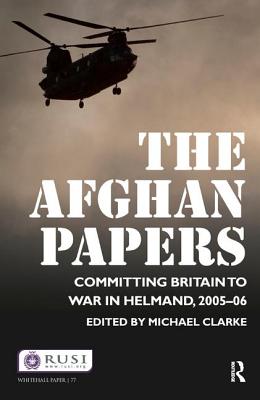 Description
---
In 2006, British forces entered the Helmand Province of Afghanistan in what would become one of the defining military campaigns of the decade. At great cost in blood and treasure, the UK waged a protracted counter-insurgency against a resurgent Taliban.
But how was the decision taken to commit Britain to such a difficult and drawn out campaign? The Afghan Papers is the result of private interviews with and frank contributions by some of the most important actors in the fateful decision. Former generals, politicians and civil servants contribute to an original RUSI analysis that provides a startling insight into the decision to commit the UK to a war - a decision wracked by conflict, incoherence and confusion.
About the Author
---
Michael Clarke is currently the Director of the Royal United Services Institute. Until July 2007 he was the Deputy Vice-Principal and Director of Research Development at King's College London, where he remains a Visiting Professor of Defence Studies. He was the founding Director of the International Policy Institute at King's College London from 2001-2005 and Head of the School of Social Science and Public Policy at KCL in 2004-05. He was, from 1990 to 2001, the founding Director of the Centre for Defence Studies at King's. He was appointed as Professor of Defence Studies in 1995.
*Search results on this website are not a real-time indication of our in-store stock. To see if a title is available for immediate pick-up, please contact us by phone (502-223-8018) or by email (poorrbooks@aol.com). Thank you! *