You are here
Back to top
Bulleit Proof: How I Took a 150-Year-Old Family Recipe and a Revolver, and Disrupted the Entire Liquor Industry One Bottle, One Sip, (Hardcover)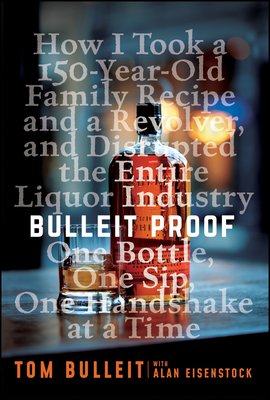 Description
---
The compelling story of how one man took a 150-year-old family recipe and disrupted the entire liquor industry one sip, one bottle, one handshake at a time
Tom Bulleit stood on a stage before a thousand people inside a tent the size of a big-top. It was both his thirtieth wedding anniversary and his birthday. But there was another thing to celebrate: the dedication of the new Bulleit Distillery in Shelbyville, Kentucky. His great-great-grandfather, Augustus, created his first batch of Bulleit Bourbon around 1830. A century and a half later, Tom fulfilled his lifelong dream, revived the old family bourbon recipe, and started Bulleit Distilling Company. Eventually, Tom was named a member of the Honorable Order of Kentucky Colonels, and elected to the Kentucky Bourbon Hall of Fame. Thinking back on all his achievements, Tom was overcome by a wave of emotion. He looked into the sea of faces and said, "I don't believe our lives are told in years. . . or months. . . or weeks. I believe we live our lives in moments."
Tom's book Bulleit Proof is just that--a life told in moments. Moments of joy, triumph, hardship, persistence, and success. His is a story of survival in war, in business, in life. Tom faced death twice: in a foxhole and in a cancer ward. In Bulleit Proof, Tom reveals all, pulls no punches, and lets you into his heart. In this book, you will:
Share Tom's personal story, including his loves, losses, and struggles
Learn the history of one of America's most beloved and awarded brands
Draw inspiration from the persistence and dedication Tom has shown throughout his life
Explore how Bulleit Bourbon changed the liquor industry forever
Bulleit Proof is a fast-paced page-turner--not only for fans of Bulleit Bourbon and admirers of Tom, but for anyone who loves an emotional, hilarious, inspirational, and deeply honest story.
About the Author
---
Tom Bulleit is founder of the Bulleit Distilling Company. After earning his B.A. from the University of Kentucky in 1966, Bulleit served during the Vietnam War as a member of the U.S. Marine Corps. He then earned law degrees from the University of Louisville and Georgetown University. Bulleit was elected to the Kentucky Bourbon Hall of Fame in 2009.
*Search results on this website are not a real-time indication of our in-store stock. To see if a title is available for immediate pick-up, please contact us by phone (502-223-8018) or by email (poorrbooks@aol.com). Thank you! *