You are here
Back to top
Out of Nowhere: New and Selected Poems (Paperback)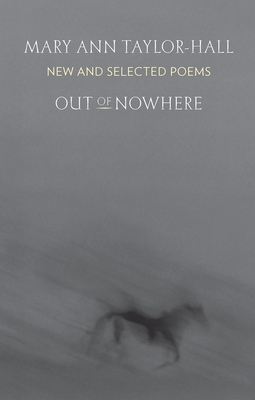 $21.00
Usually Ships in 1-5 Days
Description
---
Poetry. OUT OF NOWHERE is the first comprehensive collection of poetry by Kentucky writer Mary Ann Taylor-Hall, presenting sixty-six new poems and work from two previous letterpress collections. Selected and arranged by the author, the poems in OUT OF NOWHERE unfold as a luminous narrative of the poet's life, moving through seasons of experience--from the first stirrings of childhood consciousness to present-day meditations on loss and grief--with candor, clarity, and startling tenderness. She opens to the reader the intimate landscape of her life in rural Kentucky, which she connects directly to the immensities and astonishing mysteries of the universe that come smashing through even our most ordinary days.

"The subject here is daily life and its uncommon richness.... The starkly resonant moment discovered in these poems suddenly appears to be at one with common sense and practicality, grounded in the here and now. And yet the poems in this deep and enlarging book always defy that superficial description--because that is what this book is about, a sweet, abiding defiance. All things refuse to be merely what they seem at first notice; all things have an after life, an inner-life, a beyond-life. Beauty, at first, is no big deal, and is then accepted; spiritual and temporal transcendence are no large claims on this reality. And yet, love in its various forms comes along, to move the poet and the entire world around her from happiness through grief, and on to further love and further wisdom. This is a book of gorgeous poetry that reaches always beyond itself, and leaves one with the feeling that always reaching farther is what we are supposed to do. And so, along with great beauty and true art, in this book we also have an invitation."--Maurice Manning

"I never get tired of being inside the mind of Mary Ann Taylor-Hall, never knowing what will turn up next in this poet's keen and tender seeing of the world--creature or spirit, a kind of radiance suffusing everything. Each of these poems is so alive, so unexpected, so uncontrived, so beautiful and true in the rarest, most startling way. I could dwell here forever."--Cecelia Woloch

"Mary Ann Taylor-Hall is a lyrical cosmonaut, an explorer into the mystery of time, space and consciousness. Who are we and what is all this that comes out of nowhere? Beholding this mystery with sheer wonder, she zigzags between the out-there and the right-here. These poems form a breathtaking, exhilarating narrative, a journey through a particular life in the context of the infinite. She can touch base with the universe and then zoom in on a bird feather or a yellow leaf. We are jolted by her perceptions, surprised by what we hadn't noticed, but she was up at dawn, noticing--noticing everything, in detail, and bringing the fresh news to us. OUT OF NOWHERE is nothing less than genius."--Bobbie Ann Mason.
*Search results on this website are not a real-time indication of our in-store stock. To see if a title is available for immediate pick-up, please contact us by phone (502-223-8018) or by email (poorrbooks@aol.com). Thank you! *