You are here
Back to top
The Imbible: A Cocktail Guide for Beginning and Home Bartenders (Hardcover)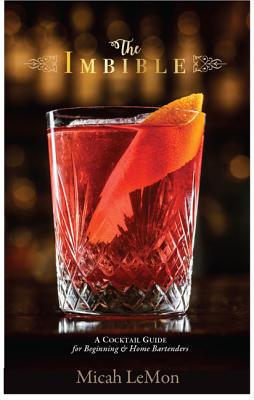 $29.95
Email or call for price
Description
---
Micah LeMon had one slight problem when he started bartending nearly twenty years ago: he had no idea what he was doing. Mixology, he came to understand, is based on principles that are indispensable but not widely known. In The Imbible, LeMon shares the knowledge he has gained over two decades, so that even beginning bartenders can execute classic cocktails--and riff on those classics to create originals of their own.
A good cocktail is never a random concoction. LeMon introduces readers to the principal components of every drink--spirit, sweet, and sour or bitter--and explains the role each plays in bringing balance to a beverage. Choosing two archetypes--the shaken Daiquiri and the stirred Manhattan--he shows how bartenders craft delicious variations by beginning with a good foundation and creatively substituting like ingredients.
Lavishly illustrated in color and laid out in an inviting and practical way, The Imbible also provides a thorough overview of the bartender's essential tools and techniques and includes recipes for over forty drinks--from well executed classics to original creations exclusive to this book. Both a lesson for beginners and a master class for more experienced bartenders, LeMon's book opens the door to endless variations without losing sight of the true goal--to make a delicious cocktail.
About the Author
---
Micah LeMon is bar manager at the James Beard Award-nominated Alley Light and writes a column on craft cocktails for C-Ville Weekly.
*Search results on this website are not a real-time indication of our in-store stock. To see if a title is available for immediate pick-up, please contact us by phone (502-223-8018) or by email (poorrbooks@aol.com). Thank you! *