You are here
Back to top
Making Bourbon: A Geographical History of Distilling in Nineteenth-Century Kentucky (Hardcover)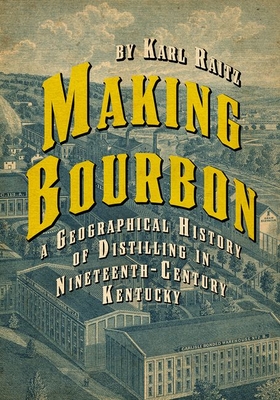 Description
---
While other industries chase after the new and improved, bourbon makers celebrate traditions that hearken back to an authentic frontier craft. Distillers enshrine local history in their branding and time-tested recipes, and rightfully so. Kentucky's unique geography shaped the whiskeys its settlers produced, and for more than two centuries, distilling bourbon fundamentally altered every aspect of Kentucky's landscape and culture.
Making Bourbon: A Geographical History of Distilling in Nineteenth-Century Kentucky illuminates how the specific geography, culture, and ecology of the Bluegrass converged and gave birth to Kentucky's favorite barrel-aged whiskey. Expanding on his fall 2019 release Bourbon's Backroads, Karl Raitz delivers a more nuanced discussion of bourbon's evolution by contrasting the fates of two distilleries in Scott and Nelson Counties. In the nineteenth century, distilling changed from an artisanal craft practiced by farmers and millers to a large-scale mechanized industry. The resulting infrastructure -- farms, mills, turnpikes, railroads, steamboats, lumberyards, and cooperage shops -- left its permanent mark on the land and traditions of the commonwealth. Today, multinational brands emphasize and even construct this local heritage. This unique interdisciplinary study uncovers the complex history poured into every glass of bourbon.
About the Author
---
Karl Raitz is professor emeritus of geography at the University of Kentucky and author of Bourbon's Backroads: A Journey through Kentucky's Distilling Landscape. He is coeditor of The Great Valley Road of Virginia: Shenandoah Landscapes from Prehistory to the Present and coauthor of Rock Fences of the Bluegrass.
*Search results on this website are not a real-time indication of our in-store stock. To see if a title is available for immediate pick-up, please contact us by phone (502-223-8018) or by email (poorrbooks@aol.com). Thank you! *