You are here
Back to top
Devils in Daylight (Paperback)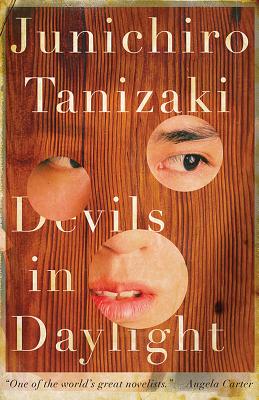 $12.95

Usually Ships in 1-5 Days
Description
---
Now in paperback, a suspenseful early novella from "the outstanding Japanese novelist of this century" (Edmund White).
One morning, Takahashi, a writer who has just stayed up all night working, is interrupted by a phone call from his old friend Sonomura: barely able to contain his excitement, Sonomura claims that he has cracked a secret cryptographic code based on Edgar Allan Poe's
The Gold-Bug
and now knows exactly when and where a murder will take place—and they must hurry if they want to witness the murder, because it's later that very night! Sonomura has a history of lunacy and playing the amateur detective, so Takahashi is of course reluctant to believe him. Nevertheless, they stake out the secret location, and through tiny peepholes in the knotted wood, become voyeurs at the scene of a shocking crime…
        Atmospheric, erotic, and tense,
Devils in Daylight
is an early work by the master storyteller who "created a lifelong series of ingenious variations on a dominant theme: the power of love to energize and destroy" (
Chicago Tribune
). 
About the Author
---
Author of The Makioka Sisters, In Praise of Shadows, and A Cat, a Man, and Two Women, Junichiro Tanizaki (1886–1965) is arguably the greatest Japanese writer of the twentieth century.

J. Keith Vincent is professor of Japanese and comparative literature at Boston University, and his translation of Okamoto Kanoko's A Riot of Goldfish won the Japan-U.S. Friendship Commission Prize for the Translation of Japanese Literature.
Praise For…
---
A rumination about the nature of fiction itself.
— Kirkus

Tanizaki laminates a murder mystery and psychological study onto a rumination about the nature of fiction itself.
— Kirkus Reviews

This captivating short novel exemplifies why Tanizaki is considered an innovator of modern Japanese literature. The prose is cunning and compelling, evoking classic Asian folklore and elements of Don Quixote.

— Publishers Weekly

Devils in Daylight, from 1918, reads like a breathless snuff film cowritten by Poe and Simenon.

— Pico Iyer - The New York Review of Books

It is no bad thing to be reminded from time to time that Jun'ichiro
Tanizaki's remarkably fresh and intimate voice is speaking to us across a
gulf of years and cultures.
— Edmund Gordon - The Times Literary Supplement

The outstanding Japanese novelist of this century.
— Edmund White

An absorbing read...quite likely you'll gulp it all down in a single sitting.
— Tony Malone

Tanizaki was a great writer. He understood the fetish-making fecundity of love, and the satisfactions it offers even while giving pain, and its perverse, inverse accountings.
— John Updike

Tanizaki is one of my favorites. His books are about love and very often perverse aspects of love.
— Henry Miller
*Search results on this website are not a real-time indication of our in-store stock. To see if a title is available for immediate pick-up, please contact us by phone (502-223-8018) or by email (poorrbooks@aol.com). Thank you! *