You are here
Back to top
Sailors in the Sky: Memoir of a Navy Aircrewman in the Korean War (Paperback)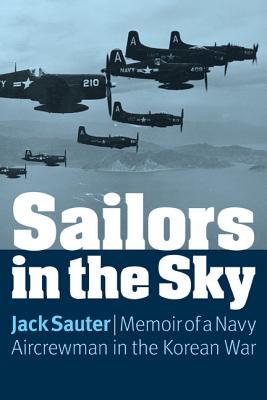 $19.95

Usually Ships in 1-5 Days
Description
---
"On previous flight ops, when a launch was delayed, we usually passed the time telling jokes or exchanging the latest scuttlebutt. Tonight was different. Each of us sat silently with our own thoughts. All of us, I'm sure, made impossible promises to God, and I was one of them. My gut was wound so tight, it was hard to breathe, no less talk. For the umpteenth time, I tightened the harness of my chute. I remember praying, 'Whatever else happens, don't make me bail out of this thing!'"
With little to no recognition from the general public, navy enlisted aircrewmen performed heroically in the Korean War. Manning radios and radar, they were indispensable to the success of missions. Aviation Electronics Technician Second Class Jack Sauter was one such aircrewman. Assigned to the USS Midway and the USS Lake Champlain, he flew twenty-one early warning and antisubmarine missions from the backseat of a Douglas Skyraider with Task Force 77 off Korea in support of our troops.
From the excitement and thrill of being catapulted from the deck of an aircraft carrier to the tedium of service at sea, the author describes in detail his service in the Korean air war.
About the Author
---
Jack Sauter was an aviation electronics technician during the Korean War and is the president and editor of the USS Lake Champlain Association Inc. Edward Peary Stafford is a retired commander in the U.S. Navy and the author of The Big E: The Story of the USS Enterprise.
Praise For…
---
"Sauter's experiences are entertaining, and true to his experience in writing the book, highly gratifying. Sailors in the Sky is a worthy addition to any aviation (especially naval aviation) library and is highly recommended."—Mark L. Morgan, Journal of America's Military Past
*Search results on this website are not a real-time indication of our in-store stock. To see if a title is available for immediate pick-up, please contact us by phone (502-223-8018) or by email (poorrbooks@aol.com). Thank you! *