You are here
Back to top
Gate Crashers (Paperback)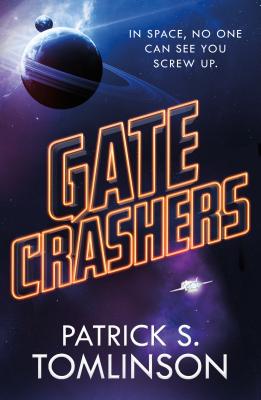 $18.99
Usually Ships in 1-5 Days
Description
---
The only thing as infinite and expansive as the universe is humanity's unquestionable ability to make bad decisions.
Humankind ventures further into the galaxy than ever before… and immediately causes an intergalactic incident. In their infinite wisdom, the crew of the exploration vessel Magellan, or as she prefers "Maggie," decides to bring the alienstructure they just found back to Earth. The only problem? The aliens are awfully fond of that structure.
A planet full of bumbling, highly evolved primates has just put itself on a collision course with a far wider, and more hostile, galaxy that is stranger than anyone can possibly imagine.
About the Author
---
Patrick S. Tomlinson is a man of many hats. In addition to writing Sci-Fi novels (Gate Crashers) and shorts, he prowls theaters, clubs, and bars throughout the midwest performing as a stand-up comedian. Between gigs, cons, and rewrites, he works as a pundit and frequent political contributor, with columns appearing in publications such as The Hill and The New York Times. In the little downtime remaining, Patrick enjoys hobbies such as motorcycling, model-building, and shooting. He lives in Milwaukee with his wife, two cats, a bearded dragon, and a 2008 Bullitt Edition Mustang named Susan.
Praise For…
---
"Taut, funny, and human, Gate Crashers takes us from zero to FTL in seconds flat." —Max Gladstone
"Tomlinson's well-plotted tale of first contact pinballs between hard science-fiction and hilarity, delivering a thrilling yarn that'll have you both laughing and biting your nails, often at the same time. Most of all, though, it's damn fun!" — Matt Forbeck, Halo: Bad Blood

"A well-drawn ensemble cast of scientists, soldiers, and aliens enriches this quirky first-contact tale" —Kirkus
*Search results on this website are not a real-time indication of our in-store stock. To see if a title is available for immediate pick-up, please contact us by phone (502-223-8018) or by email (poorrbooks@aol.com). Thank you! *