You are here
Back to top
Thieves' Gambit (Hardcover)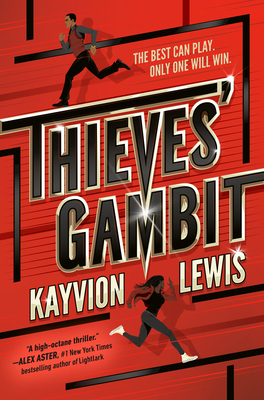 $19.99

Usually Ships in 1-5 Days
September/October 2023 Kids Indie Next List
---
"When Ross Quest tries to break away from her legendary family of thieves, she's led to the Thieves' Gambit, an international heist competition including her arch-nemesis and a charmer who may single-handedly bring back button-down vests."
— Chris Schmidt, Main Street Books (MO), St. Charles, MO
Description
---
The Inheritance Games meets Ocean's Eleven in this cinematic heist thriller where a cutthroat competition brings together the world's best thieves and one thief is playing for the highest stakes of all: her mother's life.

At only seventeen years old, Ross Quest is already a master thief, especially adept at escape plans. Until her plan to run away from her legendary family of thieves takes an unexpected turn, leaving her mother's life hanging in the balance.

In a desperate bid, she enters the Thieves' Gambit, a series of dangerous, international heists where killing the competition isn't exactly off limits, but the grand prize is a wish for anything in the world—a wish that could save her mom. When she learns two of her competitors include her childhood nemesis and a handsome, smooth-talking guy who might also want to steal her heart, winning the Gambit becomes trickier than she imagined.

Ross tries her best to stick to the family creed: trust no one whose last name isn't Quest. But with the stakes this high, Ross will have to decide who to con and who to trust before time runs out. After all, only one of them can win.
About the Author
---
Kayvion Lewis is a young adult author of all things escapist and high-octane. A former youth services librarian, she's been working with young readers and kidlit since she was sixteen. When she's not writing, she's breaking out of escape rooms, jumping out of airplanes, and occasionally running away to mountain retreats to study kung fu. Though she's originally from Louisiana, and often visits her family in The Bahamas, these days you can find her in New York—at least until she takes off on her next adventure.
Praise For…
---
Praise for Thieves' Gambit:
An Amazon Best Book of the Month – October 2023
A September/October 2023 Kids' Indie Next List pick!

"A propulsive, high-octane thriller that kept me guessing until the very end. Full of breathtaking heists, complex relationships, high-stakes tension, and characters I would follow anywhere, Thieves' Gambit gripped me from the first page, and never let go. You won't want to stop reading."—Alex Aster, #1 New York Times best selling author of Lightlark

"Thieves' Gambit is a masterpiece! I love everything about this book from the twists and turns to the international settings and the characters. Kayvion Lewis has created a fast-paced and dramatic story that had me addicted from beginning to end."—Natasha Bowen, New York Times bestselling author of Skin of the Sea

"A fast-paced story about a cutthroat competition that brings together the world's best thieves to compete for the chance to earn a wish that could change the world, Thieves Gambit also features a fabulous, easy-to-root-for heroine at its center."—Paste Magazine

"Fans of Ocean's Eleven will enjoy Kayvion Lewis's exhilarating debut."—PopSugar
 
"A pulse-pounding thriller… addictive."—B&N Reads

"The ultimate competition between thieves tests friendships and family ties…the pacing is fast, and readers will experience the best kind of whiplash as the story moves from one heist to the next. The characters are also fully realized, and it's impossible not to root for Ross as she tries to figure out who she's meant to be. A fast-paced roller coaster of a read."—Kirkus

"Debut author Lewis illustrates a captivating push and pull narrative that centers a girl yearning for a "normal" life while navigating a dangerous game where cons and trickery are rewarded…Fresh descriptions of varied backdrops, including the Bahamas, Cairo, and France, elucidate wanderlust vibes in this edge-of-the-seat thriller."—Publishers Weekly

"The high-octane stakes will appeal to fans of Jennifer Lynn Barnes and Ally Carter, and the twisty plotting is reminiscent of Ocean's 8. This new teen criminal will steal hearts."—Booklist
*Search results on this website are not a real-time indication of our in-store stock. To see if a title is available for immediate pick-up, please contact us by phone (502-223-8018) or by email (poorrbooks@aol.com). Thank you! *