You are here
Back to top
Shot in the Heart (Paperback)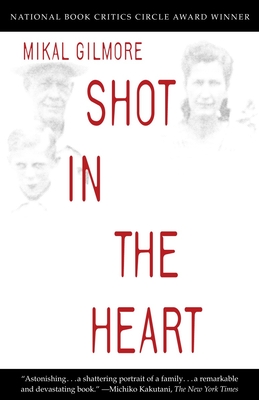 $17.00
Email or call for price
Description
---
NATIONAL BOOK CRITICS CIRCLE AWARD WINNER • A murder tale "from inside the house where murder is born." Haunting, harrowing, and profoundly affecting, Shot in the Heart exposes and explores a dark vein of American life that most of us would rather ignore. It is a book that will leave no reader unchanged.

Gary Gilmore, the infamous murderer immortalized by Norman Mailer in The Executioner's Song, campaigned for his own death and was executed by firing squad in 1977. Writer Mikal Gilmore is his younger brother. In Shot in the Heart, he tells the stunning story of their wildly dysfunctional family: their mother, a black sheep daughter of unforgiving Mormon farmers; their father, a drunk, thief, and con man. It was a family destroyed by a multigenerational history of child abuse, alcoholism, crime, adultery, and murder.

Mikal, burdened with the guilt of being his father's favorite and the shame of being Gary's brother, gracefully and painfully relates his story "from inside the house where murder is born... a house that, in some ways, [he has] never been able to leave." Shot in the Heart is the history of an American family inextricably tied up with violence, and the story of how the children of this family committed murder and murdered themselves in payment for a long lineage of ruin.
About the Author
---
MIKAL GILMORE is an American writer and music journalist. Born in Portland, Oregon to Frank and Bessie Gilmore, he is the younger brother of famed murderer Gary Gilmore who was the first person executed by firing squad after the death penalty was reinstated in 1977. Mikal was the music editor for the L.A. Weekly and the Los Angeles Herald Examiner, and for twenty years has worked on the staff of Rolling Stone, where he has profiled many national figures. He lives and works in Los Angeles, California.
Praise For…
---
NATIONAL BOOK CRITICS CIRCLE AWARD WINNER • WINNER OF THE LOS ANGELES TIMES BOOK PRIZE

"One of the most beautifully written, moving nonfiction books published in the past five years." -- Deidre Donahue, USA Today.

"Remarkable, astonishing... Shot in the Heart reads like a combination of Brothers Karamazov and a series of Johnny Cash ballads... chilling, heartbreaking, and alarming." -- Michiko Kakutani, The New York Times.

"Mesmerizing... riveting and immensely moving... Shot in the Heart is a gesture of sustained courage that just happens to be a page-turner." -- Daphne Merkin,The New Yorker.
*Search results on this website are not a real-time indication of our in-store stock. To see if a title is available for immediate pick-up, please contact us by phone (502-223-8018) or by email (poorrbooks@aol.com). Thank you! *