You are here
Back to top
Standing in the Rainbow: A Novel (Elmwood Springs #2) (Paperback)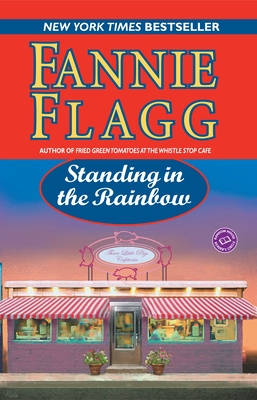 $17.00
Usually Ships in 1-5 Days
Description
---
Good news! Fannie's back in town—and the town is among the leading characters in her new novel.

Along with Neighbor Dorothy, the lady with the smile in her voice, whose daily radio broadcasts keep us delightfully informed on all the local news, we also meet Bobby, her ten-year-old son, destined to live a thousand lives, most of them in his imagination; Norma and Macky Warren and their ninety-eight-year-old Aunt Elner; the oddly sexy and charismatic Hamm Sparks, who starts off in life as a tractor salesman and ends up selling himself to the whole state and almost the entire country; and the two women who love him as differently as night and day. Then there is Tot Whooten, the beautician whose luck is as bad as her hairdressing skills; Beatrice Woods, the Little Blind Songbird; Cecil Figgs, the Funeral King; and the fabulous Minnie Oatman, lead vocalist of the Oatman Family Gospel Singers.

The time is 1946 until the present. The town is Elmwood Springs, Missouri, right in the middle of the country, in the midst of the mostly joyous transition from war to peace, aiming toward a dizzyingly bright future.

Once again, Fannie Flagg gives us a story of richly human characters, the saving graces of the once-maligned middle classes and small-town life, and the daily contest between laughter and tears. Fannie truly writes from the heartland, and her storytelling is, to quote Time, "utterly irresistible."
About the Author
---
FANNIE FLAGG's writing career began behind the scenes of television's Candid Camera and progressed to out-in-front as performer-writer. Her acting achievements led to roles in motion pictures including Five Easy Pieces, with Jack Nicholson; Stay Hungry, with Jeff Bridges and Sally Field; and, most recently, Crazy in Alabama, with Melanie Griffith. For the theater in New York she did Patio Porch and Come Back to the Five and Dime, Jimmy Dean, Jimmy Dean, and played the lead role in the Broadway musical The Best Little Whorehouse in Texas.

Her first novel, Daisy Fay and the Miracle Man, was on the New York Times bestseller list for ten weeks. Her second, Fried Green Tomatoes at the Whistle Stop Cafe, praised by Harper Lee and Eudora Welty, was on the Times list for thirty-six weeks. It was made into the memorable hit movie Fried Green Tomatoes, starring Jessica Tandy and Kathy Bates. The screenplay, also written by Flagg, earned her the coveted Scripters Award and was nominated for an Academy Award and the Writers Guild of America Screen Award. Her reading of the Random House audiobook received a Grammy nomination.

That book gave way to an even bigger hardcover success for Welcome to the World, Baby Girl!, a New York Times Notable Book of the Year, which The Christian Science Monitor called "captivating . . . a comic novel to open with open arms." Flagg lives in California and in Alabama.
Praise For…
---
"ANOTHER SURE-FIRE WINNER . . . A PLEASURE TO READ FROM BEGINNING TO END."
–The Washington Post

"[A] BIG, JUICY MIDDLE-AMERICAN APPLE PIE OF A BOOK, SOMETIMES TART BUT MOSTLY SWEET."
–Los Angeles Times

"FLAGG WRITES PAGE-TURNERS AND THIS IS ONE, IN SPADES. . . . The characters come at you thick and fast . . . Dorothy, prodigious pie-baker, supremely likeable and conscientious neighbor, [and] hostess of a wildly popular daily radio program; Minnie Oatman, the generously fleshed and bighearted lead singer (baritone) of the Oatman Family Gospel Singers; Beatrice, the Little Blind Songbird, who appears regularly on the Neighbor Dorothy program until she is swept away by the Oatmans; prickly Aunt Elner, who owns a series of orange cats, all named Sonny. Flagg's inventiveness never loses its energy."
–Newsday

"RIVETING FROM BEGINNING TO END . . . A sweeping story that runs from 1946 to 2000. Elmwood Springs [Missouri] grows from a post—World War II town surrounded by farmland to a twenty-first-century enclave near the highway but never loses its sense of utopia."
–Rocky Mountain News

"GOOD NEWS FOR FANS OF FRIED GREEN TOMATOES . . . The action does not let up for a minute."
–The New York Times Book Review

"FULL OF HOPE AND OPTIMISM . . . A book that will make you cry a little but laugh a lot."
–The Washington Post

"As delicious a serving of Southern comfort as her Fried Green Tomatoes . . . Fannie invites her readers to make friends with a host of colorful Midwestern characters, who sneak into your heart and force you to live through all their joys and tribulations following World War II right up
to yesterday. In this stormy world of 'now,' Fannie Flagg offers escape,
at least momentarily, into the rainbow of her imagination."
–LIZ SMITH
The New York Post

"A fast-paced, humorous, and lighthearted read, peopled with [Flagg's] signature quirky and captivating characters. Standing in the Rainbow spans more than half a century, but Flagg is masterful at showing how small-town life in America evolves through the decades. . . . The reader [is] propelled by the infectious momentum of Flagg's storytelling."
–Birmingham News

"There's a real celebration of life here, an affirmation that success and happiness are the results of simple kindness, gratitude, and courage."
–The Christian Science Monitor

"ENDEARING . . . The charm lies in Flagg's simple yet expressive tone."
–People

"What is so appealing about Elmwood Springs? It's Fannie Flagg's unswerving devotion to folksy, sly humor and her uncanny ability to make a small town a big character in her sweetly engaging fourth novel. . . . Flagg ushers you into the residents' hearts and minds with a flourish. She sits you right down in Neighbor Dorothy's home during her radio broadcast, hands you a plate of homemade cookies, and assures you that putting up your feet and staying a bit is the right thing to do."
–Miami Herald

"Like Rebecca Wells's Divine Secrets of the Ya-Ya Sisterhood, Flagg's book tells the story not just of the town's residents, but also of the changes in a community and a nation. . . . As Tot Whooten says at the outset, 'I could go on and on, but I won't. I hate when somebody tells me how something ends.' Let's just say that there's a pot of gold at the end of Standing in the Rainbow."
–Providence Journal

"A warm, witty, refreshing journey through fifty years with the residents of Elmwood Springs, Missouri . . . As time rolls along until the year 2000, we watch an assortment of lovable characters adapt to a changing America. And we thank Fannie Flagg for a look at those years before 'the world had flipped over like a giant pancake.' "
–The Dallas Morning News

"A SPRAWLING, FEEL-GOOD NOVEL . . . The effects of changing social mores are handled deftly; historical events as they impact little Elmwood Springs are duly noted, and everything is infused with good humor and joie de vivre that are Flagg's stock-in-trade."
–Publishers Weekly (starred review)

"[Flagg] is an engaging storyteller with a gift for creating compelling female characters and comic set pieces. . . . Elmwood Springs is populated with an endless supply of eccentric characters and comic visitors who push the story along."
–The Baltimore Sun

"Flagg is a storyteller with a big heart, an engaging sense of humor and plenty of ambition. From those hopeful post-World War II days, she tracks the comedies and setbacks of the folks of Elmwood Springs right up to the turn of the century."
–Houston Chronicle

"As the decades unfold, each character flowers in unexpected ways. . . . Hilarious, charming, authentic–a winner all the way."
–Kirkus Reviews (starred review)
*Search results on this website are not a real-time indication of our in-store stock. To see if a title is available for immediate pick-up, please contact us by phone (502-223-8018) or by email (poorrbooks@aol.com). Thank you! *