You are here
Back to top
Island Beneath the Sea: A Novel (Paperback)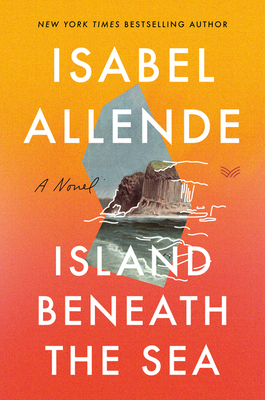 $17.99

Usually Ships in 1-5 Days
Description
---
"Allende is a master storyteller at the peak of her powers."—Los Angeles Times
The New York Times bestselling author of The House of the Spirits and A Long Petal of the Sea tells the story of one unforgettable woman—a slave and concubine determined to take control of her own destiny—in this sweeping historical novel that moves from the sugar plantations of Saint-Domingue to the lavish parlors of New Orleans at the turn of the ninteenth century.
The daughter of an African mother she never knew and a white sailor, Zarité—known as Tété—was born a slave on the island of Saint-Domingue. Growing up amid brutality and fear, Tété found solace in the traditional rhythms of African drums and the mysteries of voodoo.
Her life changes when twenty-year-old Toulouse Valmorain arrives on the island in 1770 to run his father's plantation, Saint Lazare. Overwhelmed by the challenges of his responsibilities and trapped in a painful marriage, Valmorain turns to his teenaged slave Tété, who becomes his most important confidant. The indelible bond they share will connect them across four tumultuous decades and ultimately define their lives. 
About the Author
---
Isabel Allende is the author of twelve works of fiction, including the New York Times bestsellers Maya's Notebook, Island Beneath the Sea, Inés of My Soul, Daughter of Fortune, and a novel that has become a world-renowned classic, The House of the Spirits. Born in Peru and raised in Chile, she lives in California.
Praise For…
---
"[An] entertaining sweep...The canvas contains no less than the revolutionary history of the world's first black republic...Allende revels in period details...Her cast is equally vibrant..." — New York Times Book Review
"Exuberant passions, strong heroines and intricate plots...a world as enchanted—and enchanting—as it is brutal and unjust... A page-turning drama." — San Francisco Chronicle
"Enthralling, blood-chilling, and heart-breaking…Island Beneath the Sea is a historical novel which works brilliantly in conveying the cyclone that was the eighteenth century." — The Huffington Post
"…with gorgeous place descriptions, a keen eye for history and a predilection for high drama…There are few more charming storytellers in the world than Isabel Allende." — NPR.org
"Timely and absorbing…filled with adventure, vivid characters, and richly detailed descriptions of life in the Caribbean." — Library Journal
"A lush epic of racism and rebellion which begins in Saint-Domingue (today's Haiti)…In a culture of violence, Tété proves that ingenuity can be as heroic as love." — Cathleen Medwick, More magazine
"Epic scope and sweep…[Allende's] characters, linked by blood, love triangles and even incest, have a depth and complexity that…imbues the proceedings with a lushness bordering on magic realism." — Lisa Ko, author of The Leavers
"Two remarkable women whose destinies are entwined face the chaos of this time [eighteenth century Saint-Domingue]. . . . Uncannily relevant." — Elle
"A remarkable feat of prescience. . . . Island Beneath the Sea is rich in drama, setting, themes, characters, dialogue and symbolism . . . an intriguing and wonderfully woven story." — San Antonio Express-News
An entrancing and astute storyteller…In a many-faceted plot, Allende animates irresistible characters authentic in their emotional turmoil and pragmatic adaptability…while masterfully dramatizing the psychic wounds of slavery." — Donna Seaman, Booklist (starred review)
*Search results on this website are not a real-time indication of our in-store stock. To see if a title is available for immediate pick-up, please contact us by phone (502-223-8018) or by email (poorrbooks@aol.com). Thank you! *