You are here
Back to top
Fall and Rise: The Story of 9/11 (Paperback)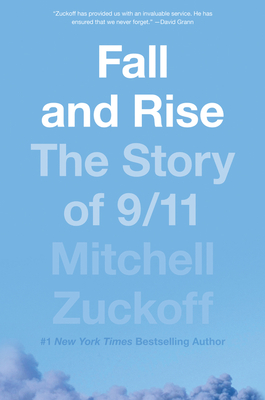 $20.00

Usually Ships in 1-5 Days
Description
---
"Better and more comprehensive than any prior account. . . . Those of us who lived through those days will find the book cathartic; those rising generations who were too young to remember 9/11, or who weren't yet born, will find it revelatory." — John Farmer, senior counsel to the 9/11 Commission and author of The Ground Truth
"With his rigorous research and moral clarity, Mitchell Zuckoff has provided us with an invaluable service. He has deepened our understanding of what happened on 9/11 and recorded the voices of the victims and the survivors. What's more, he has ensured that we never forget." —David Grann, #1 New York Times bestselling author of Killers of the Flower Moon
Years in the making, this spellbinding, heartbreaking, and ultimately uplifting narrative is an unforgettable portrait of 9/11.
This is a 9/11 book like no other. Masterfully weaving together multiple strands of the events in New York, at the Pentagon, and in Shanksville, Pennsylvania, Fall and Rise is a mesmerizing, minute-by-minute account of that terrible day.
In the days and months after 9/11, Mitchell Zuckoff, then a reporter for the Boston Globe, wrote about the attacks, the victims, and their families. After further years of meticulous reporting, Zuckoff has filled Fall and Rise with voices of the lost and the saved. The result is an utterly gripping book, filled with intimate stories of people most affected by the events of that sunny Tuesday in September: an out-of-work actor stuck in an elevator in the North Tower of the World Trade Center; the heroes aboard Flight 93 deciding to take action; a veteran trapped in the inferno in the Pentagon; the fire chief among the first on the scene in sleepy Shanksville; a team of firefighters racing to save an injured woman and themselves; and the men, women, and children flying across country to see loved ones or for work who suddenly faced terrorists bent on murder.
Fall and Rise will open new avenues of understanding for everyone who thinks they know the story of 9/11, bringing to life—and in some cases, bringing back to life—the extraordinary ordinary people who experienced the worst day in modern American history.
Destined to be a classic, Fall and Rise will move, shock, inspire, and fill hearts with love and admiration for the human spirit as it triumphs in the face of horrifying events.
About the Author
---
Mitchell Zuckoff is the Sumner M. Redstone Professor of Narrative Studies at Boston University. He covered 9/11 for the Boston Globe and wrote the lead news story on the day of the attacks. Zuckoff is the author of seven previous works of nonfiction, including the number one New York Times bestseller 13 Hours: The Inside Account of What Really Happened in Benghazi, which became the basis of the Paramount Pictures movie of the same name. His earlier books also include the New York Times bestsellers Lost in Shangri-La and Frozen in Time. As a member of the Boston Globe Spotlight Team, he was a finalist for the Pulitzer Prize in investigative reporting and the winner of numerous national awards. He lives outside Boston.
Praise For…
---
"Better and more comprehensive than any prior account.... Those of us who lived through those days will find the book cathartic; those rising generations who were too young to remember 9/11, or who weren't yet born, will find it revelatory." — John Farmer, senior counsel to the 9/11 Commission and author of The Ground Truth
"With his rigorous research and moral clarity, Mitchell Zuckoff has provided us with an invaluable service. He has deepened our understanding of what happened on 9/11 and recorded the voices of the victims and the survivors. What's more, he has ensured that we never forget." — David Grann, #1 New York Times bestselling author of Killers of the Flower Moon
"The 9/11 book we've been waiting for. A terrific storyteller and gifted researcher, Mitchell Zuckoff has rendered that world-changing day on a scale both intimate and monumental. This is narrative history at its very best." — Cokie Roberts, New York Times bestselling author and Emmy Award-winning journalist
"A triumph of great reporting and rigorous research, Fall and Rise by Mitchell Zuckoff recreates the tragic events of September 11, 2001, with harrowing precision and commendable empathy." — Daniel James Brown, New York Times bestselling author of The Boys in the Boat
"Both a deconstruction and a reconstruction, Fall and Rise is a definitive, perhaps the definitive, account of a day that will always live in infamy. In this forensic but also literary tour de force, Mitchell Zuckoff has not only created a moving and consequential work; he's performed a national service." — Hampton Sides, bestselling author of In the Kingdom of Ice and On Desperate Ground
"Mitchell Zuckoff's Fall and Rise: The Story of 9/11 brings readers back to those harrowing days in 2001 which forever scarred the American psyche and left a wound a mile deep in the heart of our nation. Every page shivers in stark remembrance of New York, Washington D.C., and Shanksville, Pennsylvania on those dark days. A masterpiece of historical scholarship!" — Douglas Brinkley, author of American Moonshot: John F. Kennedy and the Great Space Race
"The horror and heroism of 9/11 are brought to life in this panoramic history. ... The result is a superb, harrowing retelling of this most dramatic of stories." — Publishers Weekly (starred review)
"A meticulously delineated, detailed, graphic history of the events of 9/11 in New York City, at the Pentagon, and in Pennsylvania. ... Despite the story's sprawling cast, which could have sabotaged a book by a less-skilled author, Zuckoff ably handles all of the complexities. ... [A]s contemporary history, Fall and Rise is a clear and moving success." — Kirkus Reviews (starred review)
*Search results on this website are not a real-time indication of our in-store stock. To see if a title is available for immediate pick-up, please contact us by phone (502-223-8018) or by email (poorrbooks@aol.com). Thank you! *